Business intelligence, or BI, is a term that refers to a variety of software applications used to analyze an organization's raw data. BI as a discipline is made up of several related activities, including data mining, online analytical processing, querying and reporting. BI can handle enormous amounts of unstructured data to help identify, develop and otherwise create new opportunities. BI, in simple words, makes interpreting voluminous data friendly. Making use of new opportunities and implementing an effective strategy can provide a competitive market advantage and long-term stability.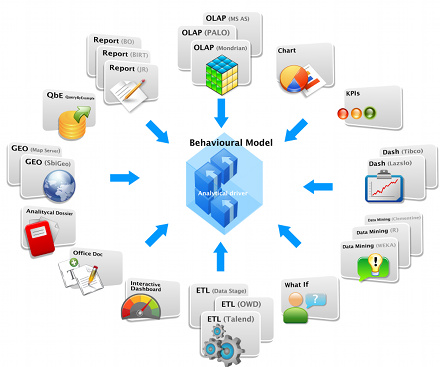 BI applications include the activities of decision support systems, query and reporting, online analytical processing (OLAP), statistical analysis, forecasting and data mining. Business Intelligence Software helps to create, distribute and use reports, analysis and dashboards very easily and in a cost effective manner. One of the main objectives is to increase the performance of the business.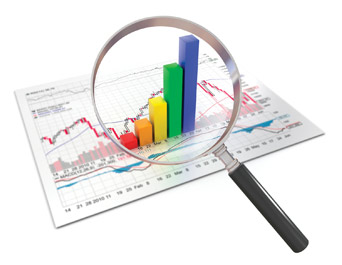 How to choose between BI & BA
With the help of Business intelligence (BI), you can handle a large amount of information at a time and use it to create or identify new opportunities or markets. You can also use BI as a tool to analyze how much time or resources are being wasted on inconsequential or unproductive tasks and how a slight improvement in the performance of an employee makes a difference when it is multiplied by the number of employees.


Business analysis, or BA, gives you the power to do a SWOT analysis of your enterprise. SWOT means Strengths, Weaknesses, Opportunities and Threats. This was you can see what your enterprise is good at, where it is lagging, what are the opportunities you have in the horizon and what are their potential risks and threats. This definitely helps you improve your enterprise's workflow and processes and makes the overall functioning of your company much more efficient than before.
Benefits of Business Intelligence & Reporting Management
Business intelligence enables organizations to make well informed business decisions and thus can be the source of competitive advantages. The ultimate objective of business intelligence is to improve the timeliness and quality of information. Business intelligence software can improve the overall performance of the company using it by enabling company to respond quickly and adapt to changes.
Increase the strength & value of customer relationships-
Market conditions, future trends, demographic and economic information.
Identify any upsell or cross-sell opportunities that may exist.
Error free analysis reports
Eliminate the need to guess or make accurate predictions of the future.
Plan, Schedule & Execute procurement schedule
Quick response times to changing market conditions & sensitive company situations
ThoughtExecution Services offerings in Business Intelligence & Reporting Management
ThoughtExecution has immense knowledge and expertise when it comes to BI/BA or Reporting Management. Our team of professionals is always ready for new challenges at work and is constantly thinking out of the box.
Reporting

Connect to one or multiple databases in a single report
Loading millions of data records for aggregation and analysis
Design a pixel perfect report including a variety of formatting options
Conditional formatting, Creating sections guided by a dimension
Display plain tables or pivot tables
Creating simple and complex filters
Presenting data in many type of graphs
Automatic summarization of figures: average, count, sum and so forth

Analysis

Clicking on data items to drill-down into the details
One click graphs
Switching easily a dimensions by slicing and dicing
Nesting dimensions
Filtering, Automatic summarization of figures

Dashboarding

Display measures visualized as meters
Defining norms and targets on measures
Alerts and notifications when target values are reached
Drilling into more details
Financial, Sales, Economics, Supply Chain, Marketing Dashboards

Performance Management

Defining a framework of key performance indicators
Setting the most likely impact of one indicator on another
Defining norms, targets and objectives
Support for the Balanced Scorecard methodology
Support for strategy maps
Support for planning & consolidation
Adjusting norms and targets
Visualization of the performance indicators in dashboards and reports

Social Collaboration

Creating data regarding a specific indicator or graph
Real-time shared analysis between the group
Programming that gets different areas (both inside and outside the business) to work together through data sharing and electronic data interchange.

Knowledge management

Programming to make the company data driven through strategies and practices to identify, create, represent, distribute, and enable adoption of insights and experiences that are true business knowledge. Knowledge management leads to learning management and regulatory compliance.

Measurement

Meticulously measuring your current standing and how close you really are to your goals or how prominently you are progressing towards your entrepreneurial aim. This measurement will actually help you to realize where your company is performing well and where it is lagging, and it helps us adjudge the best possible methods to actually revamp your company's growth.
ThoughtExecution expertise in Business Intelligence & Reporting Management Technologies stack
Other than providing custom based solutions on Business Intelligence & Reporting Management, we also have expertise in the following products/tools :
Products/Tools
About
JasperSoft
Built for Cloud, Mobile and Big Data, Jaspersoft delivers truly cost-effective, self-service BI at scale. JasperSoft, unlike traditional BI tools, allows anyone to easily self-serve and get the answers they need inside their preferred app or on their favorite device. JasperSoft's platform, unlike desktop visualization tools, scales architecturally and economically to reach everyone.

The Jasper Business Intelligence suite includes:

JasperServer (Admin, scheduler, ad hoc queries)
Report Designers - iReport and Jaspersoft Studio
JasperAnalysis (OLAP)
JasperETL (Data integration)
JasperReports Library

BIRT
The Eclipse Business Intelligence and Reporting Tools (BIRT) project is an open source project that is focused on the design, generation and delivery of reports and charts. BIRT is a full-feature open source project that matches or exceeds the functionality of many commercial BI tools. Designed from the ground up to support web based, multi-lingual reporting, BIRT is appropriate for Projects, Enterprises, or Embedded/Product solutions.

The Business Intelligence and Reporting Tools suite includes:

Architecture and strategy
Report Design - reports that make an impact
Development and implementation
Extension and customization of BIRT

Pentaho
Pentaho provides a complete business intelligence platform that encompasses data integration, analytics, reporting, data mining, dashboards, and lifecyle management. Pentaho is available either as open source (community edition), or as a commercial product. Pentaho commercial licenses provide affordable support and enhanced function such as dashboards and improved analytics.

The Pentaho suite includes:

Pentaho Business Intelligence Platform
Pentaho Data Integration (Kettle)
Pentaho Analysis Services (Mondrian)
Pentaho Analytics - Agile BI (commercial), Saiku (open source)
Pentaho Reporting
Pentaho Data Mining (Weka)
Pentaho Dashboards

Oracle Enterprise BI Server
Oracle Business Intelligence Enterprise Edition(OBIEE) is a business intelligence system for the enterprise that delivers abilities for reporting, ad hoc query and analysis, online analytical processing (OLAP), dashboards, and scorecards.

OBIEE is a comprehensive suite of enterprise BI products that delivers a full range of analysis and reporting capabilities along with a unified, highly scalable and modern architecture. Provides users with accurate and consistent insight to the information.

Users can access the information through, web-based interactive dashboards, workspaces, search bars, enterprise resource planning (ERP) and customer relationship management (CRM) applications, mobile devices, and Microsoft Office applications.
IBM Cognos
IBM Cognos Business Intelligence provides reports, analysis, dashboards and scoreboards to help support the way people think and work when they are trying to understand business performance. You can freely explore information, analyze key facts and quickly collaborate to align decisions with key stakeholders.