Customer Relationship Management or CRM software is a system that allows a business to maintain all customer records in one centralized location that is accessible to an entire organization. CRM software is essentially meant to address the needs of marketing, sales and customer service and support divisions within an organization and allow the three to share data on clients to improve sales and customer service.
It involves using technology to organize, automate, and synchronize business processes principally sales activities, but also those for marketing, customer service, and technical support. The overall goals are to find, attract, and win new clients, nurture and retain those the company already has, entice former clients back into the fold, and reduce the costs of marketing and client service.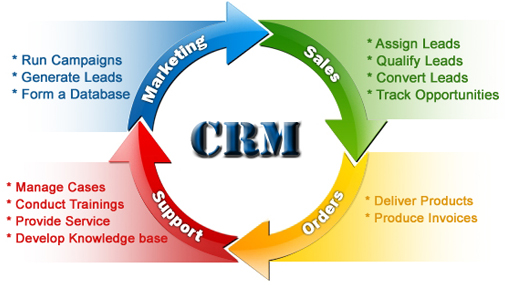 CRM system can track customer interests, needs, and buying habits as they progress through their life cycles, and tailor the marketing effort accordingly. This way customers get exactly what they want as they change.
The system can track customer product use as the product progresses through its life cycle, and tailor the service strategy accordingly. This way customers get what they need as the product ages.
When any of the technology-driven improvements in customer service (mentioned above) contribute to long-term customer satisfaction, they can ensure repeat purchases, improve customer relationships, increase customer loyalty, decrease customer turnover, decrease marketing costs (associated with customer acquisition and customer "training"), increase sales revenue, and thereby increase profit margins.
Repeat purchase, however, comes from customer satisfaction - which in turn comes from a deeper understanding of each customer, their individual business challenges and proposing solutions for those challenges
ThoughtExecution Services offerings in CRM Application Development
ThoughtExecution specializes in and develops high quality customer relationship management software. Since it is possible that CRM software will run an entire business, we believe that this is not the place for "one size fits all" solutions and we use individual approaches in our work.
Scalability - the ability to be used on a large scale, and to be reliably expanded to whatever scale is necessary.
Functionality - automates most needs of marketing, sales and support from prospect and client contact tools and opportunities management to billing history and bulk email solutions.
Security - data encryption to ensure customer privacy by protecting its information from being stolen or abused.
Usability - user-friendly interface
ThoughtExecution expertise in CRM Technologies stack
Other than providing custom based solutions on CRM, we also have expertise in the following products/tools :
| | |
| --- | --- |
| Products/Tools | About |
| Salesforce | Salesforce.com is the market leader among cloud-based CRM providers. They serve a wide range of industries and business sizes. Because the system is Web-based, users can access this powerful solution anywhere with Internet access. |
| NetSuite | NetSuite CRM+ provides a breadth of features for increasing sales, marketing and support efficiency. Managers can closely monitor performance and forecast future sales, while fine-tuning processes for maximum efficiency. |
| CampaignerCRM | This affordable solution integrates email marketing with CRM so your sales team can close more deals, faster. CampaignerCRM offers sales forecasting, social integration, mobile access, workflow management, conferencing and more. |
| Salesforce.com Service Cloud | Built on the powerful Salesforce1 Platform, Service Cloud is a robust and user-friendly customer service solution that allows companies to engage customers and deliver exemplary customer service from anywhere. |
| SugarCRM | SugarCRM enables businesses to create extraordinary customer relationships with the most innovative and affordable CRM solution in the market. |