A Content Management System (CMS) is a web application that makes the authoring and delivery of content easy. You no longer need to have separate software to update your site content, as you can easily make changes in website content with an Internet connection. The system facilitates users in building, arranging and maintaining content rich websites with efficiency. Streamlining the web publishing process, content management systems eliminate the need for costly site maintenance, empowering you to manage the content by yourself. Hence, a content management system is an ideal solution for businesses who wish to maintain their own websites.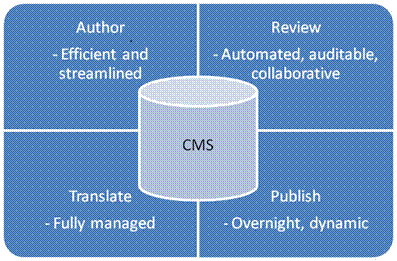 The rich experience gained from multiple projects has made it possible for us to deliver a supreme quality web content management system that is par excellence. ThoughtExecution provide all of the administrative tools required for the maintenance of your website, and also simplifies your ability to update news, press releases, copy changes and price changes by yourself.
ThoughtExecution Services offerings in CMS Application Development
ThoughtExecution provide you the CMS Solutions that can serve you different aspects of content management like document content management, web content management, enterprise content management, portal content management, source content management solutions and digital asset management.
Intuitive graphical user interface and quite easy to understand and use, even to a non technical user
Custom designing of the frontend so that the website can have an unique look and feel
Highly extensible by allowing plug-ins and modules to build upon or add to core features
Optimized for speed, stability and SEO
Secure and compatible with best practices and open standards
Enterprise Content Management Solutions
ThoughtExecution expertise in CMS Technologies stack
Other than providing custom based solutions on CMS, we also have expertise in the following products/tools :
| | |
| --- | --- |
| Products/Tools | About |
| WordPress | WordPress is a content management software that you can use it to create a beautiful website or blog. WordPress is free, but the kind of features and ease of utilization are priceless. |
| Joomla | Joomla is a award winning content management system, it helps you build websites and also powerful online applications. Installing and setting up of Joomla is very easy and you do not have to be a advance user. Joomla is a open source content management solution that is available freely for everyone. |
| ExpressionEngine | ExpressionEngine (EE) is an elegant, flexible CMS solution for any type of project. Designed to be extensible and easy to modify, EE sets itself apart in how clean and intuitive their user administration area is. It takes only a matter of minutes to understand the layout of the backend and to start creating content or modify the look. It's fantastic for creating websites for less-than-savvy clients that need to use the backend without getting confused |