When technology meets varied business needs, then it gives birth to cutting-edge business solutions and business applications that are custom designed and created to suit varying business requirements. We lay a lot of impetus on the development of high end and sophisticated business solutions that are tailor-made to suit the business modules.
Custom software development means developing software that tight fits the requirements of the clients depending upon their business needs. Unlike "Commercial, off-the-shelf" solutions that change the business process to fit the software requirements, these applications are custom developed to fit your business environment.
ThoughExecution develops new and custom-made business applications depending on the different business requirements of our clients. Have the best technological expertise ranging from .NET, PHP, Java-based services, various other open source development platforms, e-commerce solutions etc. Specifically cater to the divergent requirements of my clients depending on their business objectives and customer services.
Business Development Solutions
We develop both business-to-business applications as well as business-to-customers business applications catering to business application development for serving the needs of the clients; business partners and also achieves optimum level of customer satisfaction. We base our business applications around the different business problems and find better solutions for each of them. Our expert team of software developers and analyzers work towards creating problem-solving business models and software developed to offer the right business applications.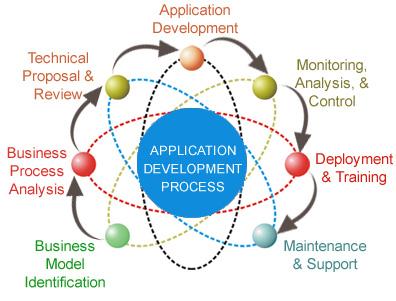 Starting from the customization of the already existing software to the full-cycle custom software application development as per the client's requirements, ThoughtExecution is an experienced and trusted technology partner that can help you get cost-effective and reliable custom software solutions to cater your unique business requirements. Our experience in developing applications in various languages and on various platforms allows us to make judicious decisions while selecting platform and designing software architecture. Our consulting approach would also suggest any process improvements that are needed to leverage the technology as much as possible.
We provide Custom/Business Application Development services for various application types :
Client/Server applications
Distributed applications
Component development
End-to-end web based systems
Comprehensive business solutions
Messaging Applications
Transparent project management and change management ensures that our client is involved at all levels of the development cycle. We understand the urgency to realize your investment in IT, so we ensure that the deliverables are defined in phases relevant to the business needs. Our efficient management of overheads expenditures like travel and communication costs enables us to deliver effective solutions within budget and on time.
ThoughtExecution Services offerings in Custom Application Development
We understand that every company requires an application which fully suits their work needs and scope. This unfortunately is not easy to find. In today's time when time is of the essence it is utmost important that companies do not have to worry about finding the right application, and then learn to use it. That's why they want customized solutions for their needs, and that's where we come in. By the experience and expertise of handling many such requirements, we are confident and capable of handling your custom application development needs, and can meet your objective of making the application easy to use and just the way you wanted.
We offer solutions which are built specific to the requirements of our clients, and are completely following our strict software development life cycle process. From design, to development and even till support and implementation, we always thrive to keep the cost to a minimum and efficiently carry the whole process and deliver much to the client's satisfaction.
Full cycle software development process, right from product design and offshore software development to outsourcing application support, maintenance and enhancement
Cutting down and integration of multiple process initiatives
Zero down risks of project failures
Email Notification for all transactions
Utilization of open source softwares
Cost-competitiveness – our offshore software application development services are designed in such a way that helps our clients save maximum money compared to the other service providers.
Out-of-the-box solutions – over the years of experience in developing custom software applications, ThoughtExecution has gained expertise in providing out-of-the-box custom software solutions irrespective of their complexities.
Availability of well-trained and skilled developers: we have a pool of highly talented and skilled software professionals.
Reduced development risk as we follows proven development methodologies and efficient project management tools.
Integrating leading applications with legacy systems